We need your help!  There are not enough hours in the day to keep up with the cleaning, crafting, carpooling, grocery shopping…oh and the cooking!  We need some quick, quality recipes to feed our growing families and we know exactly who to turn to!   That's where you all come in!  We thought it would be fun (and very helpful) to have a Linky Party for this  predicament.  We will call it Shanty Suppers and our first party will be held on Thursday, May 19!
Shanty Recipe: A quick, easy, family friendly recipe that will allow more time for DIY projects.
Fun Right! We can't wait to enjoy all of your great recipes! Grab our button to get the word out!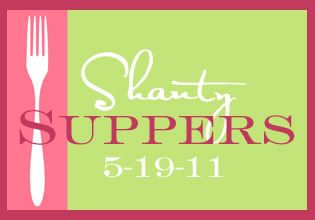 <div align="center"><a href="https://www.shanty-2-chic.com/2011/04/new-linky-party.html" title="Shanty 2 Chic"><img src="http://i936.photobucket.com/albums/ad205/whitters015/ssbutton.jpg" alt="Shanty 2 Chic" style="border:none;" /></a></div>