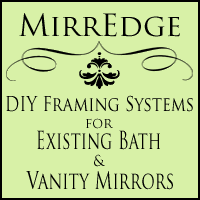 Whitney came over and we got to work!
I started with the boys bathroom. ANYONE can do this but I would like to show you exactly how I did it!
I then bought 1 set of 4 corner plates. They cover the seams and add a nice aesthetic touch.
The trim is 59.5" long, so roughly 5'. The instructions say to measure each piece on the mirror, score and then crisply snap the trim to get the right fit. I used the circular saw because it was a tad faster. Measure the vertical strips first and then the horizontal. After you cut them down to size there are double-sided adhesive pads that come with the trim – just peel and stick (we put 4 to 5 on each strip). Then add small dabs of a liquid adhesive next to each adhesive pad (i.e. Liquid Nails is a low cost option that works well).
Then you just press the trim onto the mirror!
Once you have all of the trim up it's time for the corner plates. No cutting here ~just peel and stick the double sided, adhesive, strips and fit to each corner!
Remember the Before…
and here is the AFTER!
I just love how custom my boys mirror looks now and it completely transformed their whole bathroom! Total time invested – 30 minutes! I highly recommend this product to anyone that wants a chic look in minutes!
Okay, so I loved this product so much that I went back to the store that night to get more trim for my master bathroom.
This line also carries seam plates that cover seams when you need more than 5' of trim. My master mirror needed about 6 ft. on the horizontal pieces so I bought 1 set of 2 seam plates.
You want the seams in the center of the mirror for aesthetic purposes so I had to buy 1 set of trim for the top and 1 for the bottom and then 1 set for the vertical sides. I measured the horizontal pieces so that they met in the center and followed up with the same steps we used for the boys bathroom. When I was done I added the seam plates to cover the seams in the center with the double sided, adhesive, pads and that was it. I LOVE MY MASTER BATH SO MUCH MORE NOW! Total time invested – 30 minutes!
Before…
After!
I had so much trim left over that I decided to do my half bath also! The only purchase I made for this mirror was the corner plates!
At the end of the day I had customized three bathroom mirrors / which in turn transformed all three bathrooms (in about 1.5 hours) ~ it just doesn't get any better than that folks!
This is the perfect time of year to begin new projects and I can promise you this one is so quick and easy!!! Happy New Year to you ALL!