I am about to show you the most loathed, neglected and hidden room in my house…..
Yep, my laundry room….  Okay, it's not that bad but it just screams BORING… as if laundry isn't boring enough;)  It's baseball season which means loads and loads of laundry for me.  I love my family and I love taking care of them but it's time to spice it up a bit:)
I sure would love one of those large mud room/laundry rooms but I didn't think about that when we were house hunting so we have a small laundry room off of the garage……I am determined to make the most of every square inch I have in this little room and make it as cute as possible in the process:)  Hence the Washer/Dryer Pedestal!  If you missed the build process you can check it out HERE!
I chose Behr Gray Area in high gloss ~ there was no fine science to this.  I didn't get samples, I just picked a pretty gray;)
After 2 coats of Gray Area and 1 coat of Minwax Polycrylic high gloss it was ready to test out! 
Ladies: If you would like to build this for your laundry room, tell your husband to leave the room for a sec;)
This sucker was the biggest pain in the touche to get in the house and under the washer and dryer!  Beware:)  If you have a large laundry room I would assume it is no problem…not the case for us!  I will spare you the details because we got it in but picture Austin Powers in the warehouse;)  It hurt, we got frustrated and water spewed EVERYWHERE the first time we turned the water back on (beach towels in the corner of pic;)
John connecting the dryer hose for the 4th time….  someone's gotta be behind the lens;)
Okay!  You can tell the hubbies to come back in:)
Okay, remember the before….
And the after!
Love the storage!  I'll share the tutorial for these baskets very soon.  I will say that they were SUPER cheap:)))
What I love:  The storage it offers on the bottom,  it sits the washer and dryer high enough to cover up all of the hook ups on the wall and it gives my laundry room personality!
Total cost for the pedestal (paint not included) $80!  The pedestals that you can purchase are about $200 and you have to buy two of them!
And because I just couldn't resist…..
It's built tough!  In the case I get the urge to read a magazine in the laundry room;)  Seriously though, I climbed up and down on these trying to touch up paint on the walls and ceiling.  The pedestal didn't budge!
I'm still adding finishing touches to the room so I'll be back later to show you my complete laundry room make-over!
Don't forget to link up your favorite Shanty Supper on May 19th!  We are so excited:)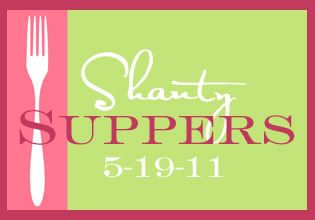 Thanks so much for stopping by!
~Ashley